[This is a post from Susan Doig, a Buyer Agent at Charlesgate Realty Group. If you have questions, please contact Susan].

As a buyer agent at Charlesgate Realty Group, I always get a lot of questions about what I do. So I'd like to write about just that in a regular weekly post and also share some of what makes us great at Charlesgate Realty.
Yesterday, just like every Wednesday morning, we start our day with a team meeting. We gather to go over any new properties that are coming on the market as well as our pipeline of upcoming listings. This helps keep us up to date on the market and be able to educate the buyers that we represent to help them get a better deal on a new home.
We also usually have a visit from other professionals such as a mortgage broker or real estate attorney. They keep us updated on the legal and financial aspects of the real estate world, such as new mortgage underwriting guidelines or new loan products available to our clients. Yesterday we got some great advice from a mortgage broker about low cost Mass Housing Loans available to first time home buyers in Boston as well as some new qualifying criteria for condo purchases.
After our meeting, we headed out to preview our new listings. Looking at listings as they come on the market keeps me up to speed on new inventory and pricing trends - key aspects of the market that help me provide my buyer clients great advice and guidance throughout the purchase process and negotiations.
Yesterday we previewed a fantastic 3 bedroom condo on Park Drive (pictured here) that we have coming on market officially next week. Let me give you a little "sneak peek" here. We entered the building and I first noticed the beautiful mosaic tiled floors and lovely natural woodwork banisters. We all walked into the property with a "Wow, this is nice." You first enter into the open living room and kitchen area. The kitchen had granite counters, oak cabinets and stainless appliances. The bathroom was also nicely renovated including an elegant tiled shower. Two bedrooms are on one side off of the living area and the third to the other side of the condo. All in all a very good value for $450,000!
Hopefully that gives you a glimpse into my day as a buyer agent (or, at least part of my day)! See you back here next Thursday for my next post!
And if you would like to view this property or any other properties in Boston please contact one of our dynamic buyer's agents. We are always happy to help!
[For more information or an appointment to discuss your real estate needs please contact Susan Doig, a Buyers Agent at Charlesgate Realty Group, at 857-383-3143 or by email at sdoig@charlesgaterealty.com]
-------------------------------------------------------------------
Attend Our Free First Time Home Buyer Class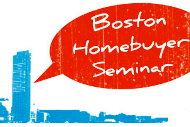 Want to learn the buying process in Boston from the pro's? Get all the details about buying a home, including a timeline of the process, mortgages available for you, market stats, working well with an attorney, things to watch for at a home inspection, and much more.
Register Now for the next class.

For more information and a schedule of classes, click here.