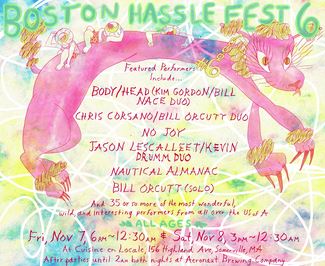 Underground music is taking over Somerville this weekend! On Friday, November 7th & Saturday, November 8th, the BRAIN Arts Organization will be presenting the 6th Annual Boston Hassle Fest!
The Boston Hassle Fest will be held at the Cuisine en Locale in Somerville and feature over 40 bands!
Headliners include Body/Head, No Joy & Blues Control.
"Boston Hassle is a completely volunteer-run project that constantly interacts with, participates in, writes about, and generally shines a light on Boston and New England's art, music, and film communities!"
Please click here for more information.