Join the ICA for tastings, artisan demonstrations, DIY workshops, and more every Friday from 5-8 PM in the Water Café.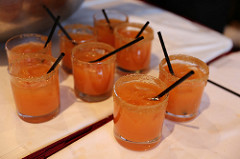 This Friday, November 20 is Punch Bowl Pro: "Entertaining this holiday season? Leave the jungle juice behind and wow your guests with the perfect autumnal batch cocktail! Gather recipes (and samples) at this Thanksgiving edition of ICA After 5."
Click here for the full ICA Calendar!
Admission to ICA after 5 is included in the regular admission price.