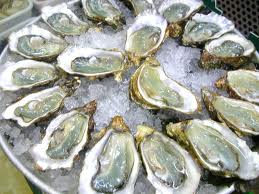 This Wednesday, July 18th, is a great opportunity for you to become more involved in your community's environment! Enjoy the Massachusetts Oyster Project Screening of "Shellshocked" at the North End Branch Library.
"SHELLSHOCKED: Saving Oysters to Save Ourselves" follows efforts to prevent the extinction of wild oyster reefs, which keep our oceans healthy by filtering water and engineering ecosystems. Today, because of overfishing and pollution, wild oyster reefs have been declared 'the most severely impacted marine habitat on Earth' and no longer play a role in their ecosystems. Now scientists, government officials, artists and environmentalists are fighting to bring oysters back.

While the film is based in NY, the lessons and issues are directly applicable to Massachusetts harbors and estuaries, many of which once held significant oyster populations, perhaps most notably the State's most urban harbor, Boston. Immediately following the showing there also will be a discussion with Director Emily Driscoll, Oystermen and people active in the restoration of Boston Harbor.
Here's a little preview of the film:
And let's be honest, WHAT ELSE DO YOU HAVE TO DO ON A WEDNESDAY NIGHT? ohh.. you have plans? Well, maybe I just don't have a social life! :) But if you love oysters, or if you want to learn to love oysters, I'll see you there!
When:
Wed, July 18, 6:30pm – 8:00pm
Where:
North End Library, 25 Parmenter Street, Boston, MA 02113