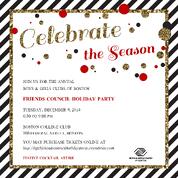 The Friends Council of the BGCB will be hosting their Friends Council Holiday Party on Tuesday, December 9th!
The Friends Council Holiday Party will be held from 6:30 pm-9:00pm at The Boston College Club in Downtown Boston.
The Friends Councile Holiday Party will have live music, open bar, great networking and fun! Tickets for non members are $65.00 plus fees.
The BGCG "serve approximately 15,000 children and teens, ages 6 to 18, in our Clubs, and through our programs and partnerships. Our approach focuses on six core initiatives: Arts; Education; Leadership; Life Skills; Sports, Fitness and Recreation; and Technology."
Please click here for more general and ticketing information for the Friends Council Holiday Party!