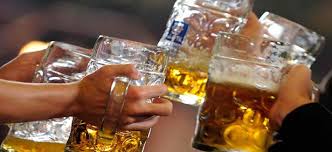 "The Harvard Square Business announces the 36th Annual Oktoberfest and legendary HONK! Parade on Sunday, October 12th, 2014. Annually attended by over 200,000 people, Harvard Square's Oktoberfest features food from all over the world, arts, crafts, vintage goods, sidewalk sales and one-of-a-kind gifts.
Oktoberfest in Harvard Square was started 1978 by the late Frank Cardullo, a Square mover and shaker and owner of the renowned Wursthaus, which served up traditional German food from 1917 until it closed in 1996. The early festivals were in keeping with the old world customs. Over the years, however, the festival has taken on a most discerningly Cambridge vibe to become an Oktoberfest unlike any other."
Some of the live music performers for this years Oktoberfest include Zac Mac Band, Jake Hill and Dirk Hamilton. There will also be a beer hall at the Beat Hotel for those that want to enjoy some beers and traditional German drinking songs!
Please click here for more information on the 36th Annual Oktoberfest in Cambridge.